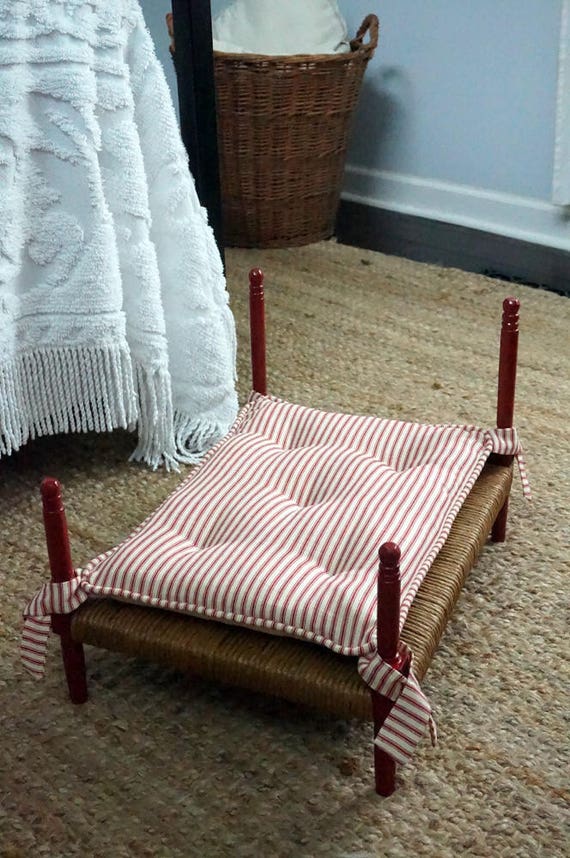 If you know me, you know I love dogs... so when I came across a vintage, handmade, wooden doll bed frame at the flea market you can probably guess what I saw: french country, four post, woven rush dog bed! So here's the story of how the broken doll baby bed became the farm-chic puppy perch ;D
OK, You are probably wondering, what did this look like before? Well it was not great... but for me, not great is perfect because that means I can usually score a deal! Unfortunately, the headboard was so badly damaged I just had to remove it. Aside from the joints being unglued (the whole thing fell apart as soon as I picked it up) the rest was just what I needed! So I got to work re-gluing the joints, removing the nails that held the strings, and patching the holes left from the headboard.
With that done, the frame was much more sturdy... Now it's time to sand and paint! I knew right away that since there would only be a small amount of the wood frame showing once we were done, I wanted to go with a bold color... then I remembered the red ticking material I had in my stash! Red it is ;D
Painting day! the bed frame is at the bottom in red ;D
With the frame complete, the next step is the woven rush bed. This was a great piece to work on since it doesn't have any extra rungs to work around when weaving. But it was large enough that I had to complete it in 2 sessions (you would be surprised how tired your hands get working with this stuff!)
Not only does the piece look great, but the rush gives it even more strength and stability! The final step for teh rush is just a clear coat of poly for a professional finish. The poly brings out the warm color (almost bamboo like finish) but also protects it against wear. So, while that dries the only thing left is to make the pillow top!
The pillow top is going to use the red ticking for the top, piping, and ties. The bottom is a natural slub linen. But all of it is washable! (kind of important with dogs) The best part about the tufting is that it will secure the stuffing inside the pillow, so it should hold it's shape even after washing ;D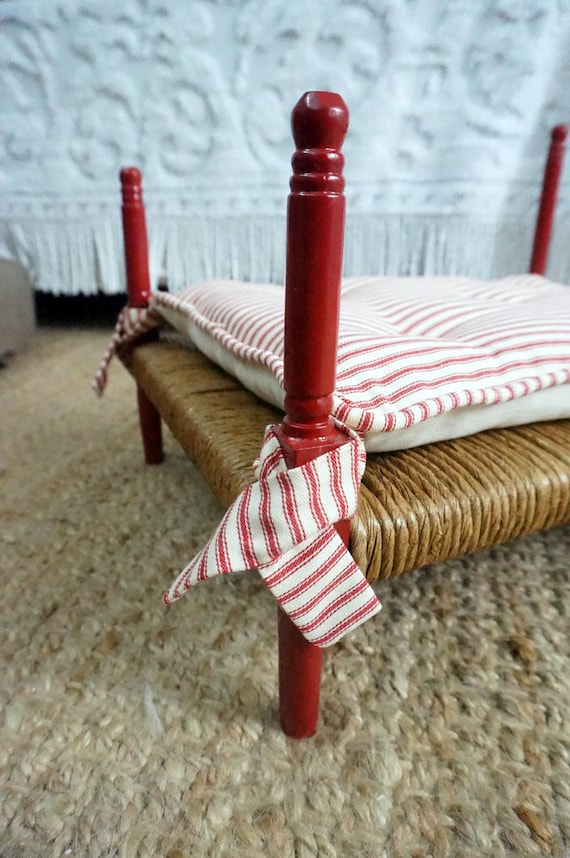 And that's it... I'm so happy with how it came out that I want to go get a little dog (mine are much too big)! But since I can't really add to my furry family right now, that means this little treasure is going to be available in my etsy shop...
Check it out
!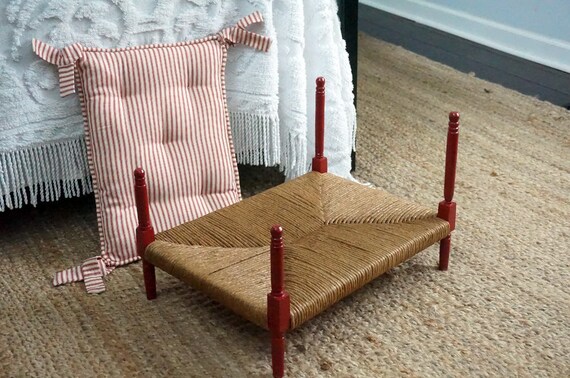 OK, that's all for now; on to the next project! Want to know what it is?
Follow me on twitter
for sneak peeks and updates! If you're just looking for DIY inspiration, stayed tuned @
dawntoussaint.com
for more on my DIY projects through the year! And if you're looking to get some of the items you've seen here on my blog, on
twitter
, or on
my boards
, just head over to my
etsy shop
!